Honda Service Center - Manchester, NH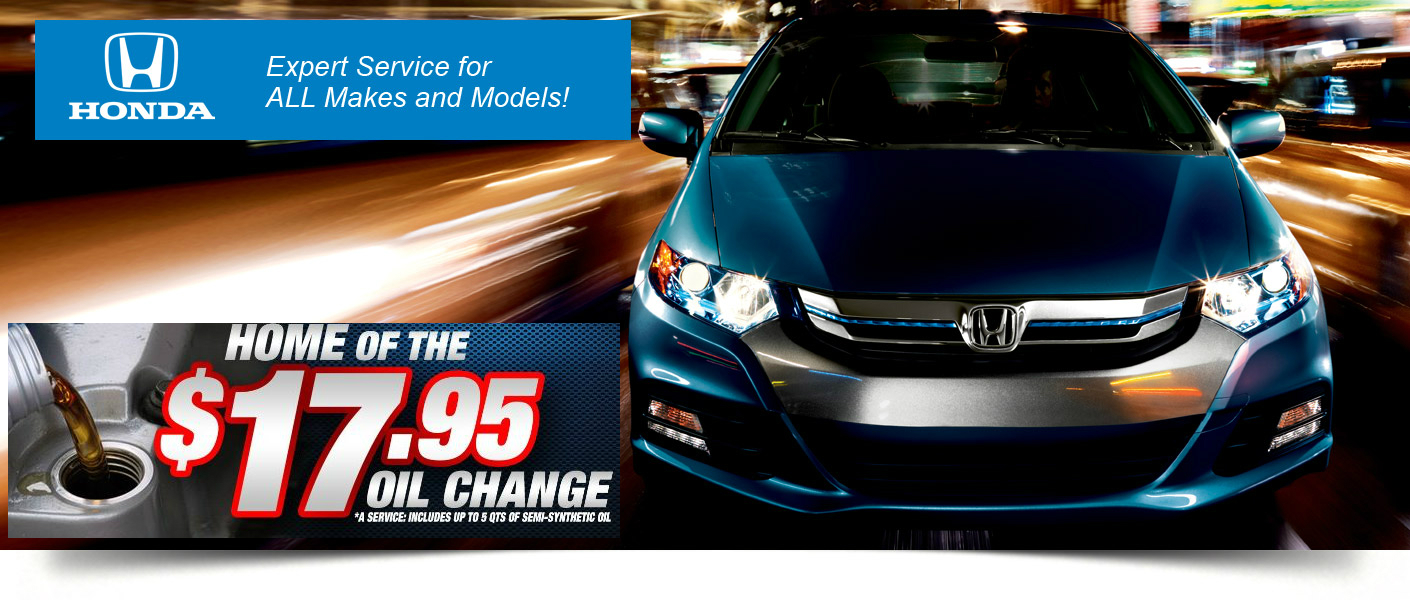 Honda vehicles are built to last, but even the finest machines require periodic maintenance to continue operating at their peak efficiency. We make keeping your Honda maintenance up-to-date effortless at our dealership serving the Nashua, Concord and Manchester areas. Our professional technicians strive to make short work of any job. Whether you need an oil change, a state inspection or an alignment, we can get you back on the road without delay. We will also always take the time to explain any necessary work in layman's terms so you can make an educated decision for your vehicle and wallet.
It's easy to set up a service appointment at our dealership. Just fill out the service appointment scheduling form and we'll get you in at a time that fits your day.
Why Service Your Vehicle with Us?
In addition to the list of vehicle procedures above, our professional service team can perform some of the more comprehensive repairs as well. No job is too big or too small for the team at our Honda dealership serving the Concord, Nashua and Manchester areas. The Honda brand is our specialty, so we can even handle recall and warranty work as well. Even though we specialize in this brand, working on other makes and models is never an issue because of the talent and experience of our team. If you want trouble-free vehicle maintenance and service in the Manchester, Concord and Nashua areas make the short trip to the AutoFair Honda Service Department today!
The quality of repairs that we perform at the AutoFair Honda Service Department is always our top priority. We take the time to make sure every vehicle that is being worked on is in safe and reliable operating condition every time it leaves our shop. You deserve the best when it comes to something as important as your vehicle. Aside from quality, coming in at a close second is the timeliness of our repairs. We strive to get you and your vehicle in and out of our shop as quickly as possible so you can get back to your day. We work hard to provide fair prices and quality service that works for your lifestyle!
Quality Licensed Parts
One of the most disheartening things any mechanic sees when a vehicle enters their shop is a vehicle that has the wrong parts installed on it. We cannot stress enough how important it is to have the proper parts installed in your vehicle the right way. By cutting corners or going with the easy route, often times your vehicle's reliability and performance will suffer greatly from it.
We insist that only the best parts and tools are used on every vehicle repair or maintenance procedure that we do. By taking a little extra time and focusing on the details, rest assured that your vehicle will be there for you when you need it most!
In fact, we even stock an extensive selection of these parts right here at our shop. This ensures that our vehicle service is always done to the highest of standards and our costs are kept low. If you are tired of the run-around and poor service that some shops provide, make the short trip to our service lot today and we will treat you right! We are conveniently located at 200 Keller St, Manchester, NH 03103 and we are always ready to take the time and make sure you enjoy your experience with us!
---
Auto Service Specials - Manchester, NH