What do you do when a sedan feels too cramped but a minivan or SUV feels like way too much space and the gas bill is just too much? You buy a
2017 Honda HR-V
, a subcompact SUV that handles with the ease of a sedan but offers more legroom and cargo space.
With the new Honda HR-V, you can feel good knowing that you aren't making a huge carbon footprint every time you drive and you can have a much more fun and comfortable drive than you would with a sedan.
At AutoFair Honda in Manchester, NH, we just can't seem to keep this exciting new SUV in stock. We're constantly refilling quantities only to watch them drive off the lot as more people across New Hampshire are discovering and falling in love with this unique SUV.
View 2017 Honda HR-V Inventory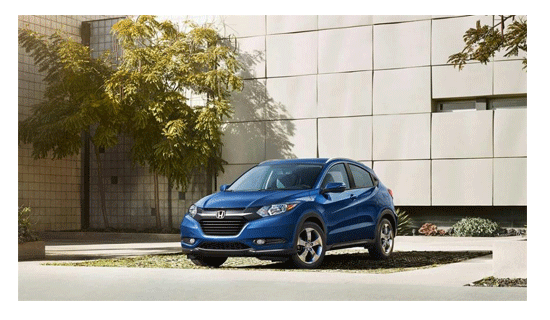 Honda's Newest Crossover
With the success of its CR-V model and the continued demand for smaller compacts, Honda saw an opportunity and took it with the creation of the new HR-V. This is a brand new model for Honda, and it is off to a strong start.
The HR-V is built on the same platform of the compact Fit, but it has a long wheelbase and wider track that allows for a larger cabin. Though it is smaller than the CR-V, drivers will be hard pressed to spot the difference when they are behind the wheel. The HR-V offers a lot of the same driving mechanics and comfort but without the larger footprint.
Find out what all the fuss is about and take a test drive of Honda's new offering at AutoFair Honda in Manchester. You'll soon be believer.
View 2017 Honda HR-V Inventory
Class-Leading Cargo Space and Rear Leg Room
It might be a subcompact SUV, but the 2017 Honda HR-V doesn't scrimp on room or comfort. Smaller families will have all the space they need in this cushy crossover.
The new HR-V leads in the class for rear leg room, so adults will have plenty of space in the second row. There isn't a bad seat in the cabin, whether you're seating adults or children.
The bold newcomer also leads in cargo space. While the rear cargo area offers plenty of room for items like luggage or bags, the folding seats expand the storage possibilities. The second row has 60/40 folding seats, and you can raise the rear seat bottom or lower the front passenger seat to accommodate larger items.
You may not be able to haul a couch with your HR-V, but you'll be able to carry items that others in the class cannot, such as road bikes and surf boards.
Bring some friends and take a test drive of the 2017 Honda HR-V at AutoFair Honda so you can test out the interior room yourself.
View 2017 Honda HR-V Inventory
Enhanced Safety with Multi-Angle Back-Up Camera
SUVs are often family vehicles, and that makes their safety a top concern. The Honda HR-V comes out of the gate swinging, offering some of the best safety features in the class.
The multi-angle rearview camera offers more coverage when backing up, such as from wildlife like deer that can often dart out without warning across New Hampshire. You'll have a much clearer view of any potential obstacles when backing out of a space.
With the HR-V, the Honda introduces a new safety feature: The automatic brake hold. Just hit a button and the brakes lock in place. Not only does this mean that you don't have to keep holding your foot on the pedal while you're stopped at a red light, but it also means that your vehicle won't be moved as far if you are hit from behind while at a stop. You don't have to worry about the impact knocking your foot off the brake and sending your car far forward.
Other standard safety features include multiple airbags, antilock brakes, and stability and traction control. With upgraded trim levels, you can get safety features like the blind-spot monitoring system.
Whether you are cutting across icy roads during the New Hampshire winter or exploring rough New England countryside, you'll feel safe doing it in the 2017 Honda HR-V.
View 2017 Honda HR-V Inventory
Check Out the New 2017 HR-V in NH at AutoFair Honda
Discover the new Honda HR-V while also discovering one of the best Honda dealership in New Hampshire by scheduling a test drive at 
AutoFair Honda.
Our friendly sales associates don't use high-pressure sales tactics to try to meet a quota. They are focused on learning your needs to help you find the perfect vehicle. Whether that's the new HR-V or another Honda, they will help you find it.
Click the button explore our extensive inventory online of the new 2017 Honda HR-V in NH.
View 2017 Honda HR-V Inventory