2010 Honda Element
View Our New Honda Element Inventory!!
Summary
The Honda Element may be in a busy class of mid-sized SUVs, but the Element draws consumers with its very unique looks, interesting cabin, and its Honda nameplate. The 2010 Element appeals to both young and old alike, with its very maneuverable body size, and its room inside for four adults and their cargo.

Full Review 2010 Element
The big news for 2010 is the expansion of the Element package options with what Honda calls the Dog Friendly package. Like the package name, this Element model is designed specifically with dog owners in mind. It allows drivers to bring their dog along safely and comfortably. The package includes a fully enclosed kennel that sits in the cargo area and features a cushioned bed and built-in water bowl, an extend-able ramp to ease the dog's entry and exit, a rear ventilation fan, rubber floor mats and dirt- and water-resistant second-row seat covers.
The Element got a refresh in 2009, so changes for this model year are limited. With its cargo-van-style side doors, the Element allows simplified loading of bulky cargo, and to optimize utility, the rear seats can be either flipped up to the sides or removed completely. Meanwhile, its box-on-wheels architecture and small size make maneuvering around campsites and city streets a breeze.
Design of the 2010 Element
The Honda Element offers one of the most usefully shaped vehicles on the road, a box. The Element's footprint is not huge, it is 7 inches shorter than Honda's smallest sedan, and surprisingly tall. With the update in 2009, the Element now more closely resembles its larger Honda sibling, the Pilot. Element's trademark center-opening swing-wide doors with no B-pillar remain a distinguishing feature. The SC features a different, custom grille, painted bumpers, larger wheels and a lowered stance. The Honda Element comes in three trim levels: the base which is named LX, an upper trim called EX and a specialty, sport-oriented called SC. The Honda Element also has a unique door configuration, its "clam-shell" rear doors pivot backward a full 90 degrees. Without a B-pillar to intrude, opening both side doors creates an extra-large portal through which to easily load passengers or bulky cargo.
Element Power
For power, the Honda Element is available in both front-wheel and all-wheel drive configurations. It is equipped with a standard 166-hp 2.4-liter inline 4-cylinder engine, matched with a five-speed automatic transmission. This engine is the same as last year's model, minus the manual transmission. For handling, the SC trim features a sport-tuned suspension. The Honda Element gives drivers great city driving response and decent highway travel, making it a perfectly good vehicle to use as a daily commuter. Driving the Element gives you a commanding view of the road because of its tall design. The Honda Element works great for light-duty utility it delivers for its size. Maximum towing capacity for the 2010 Element is 1500 lb.
2010 Element Lineup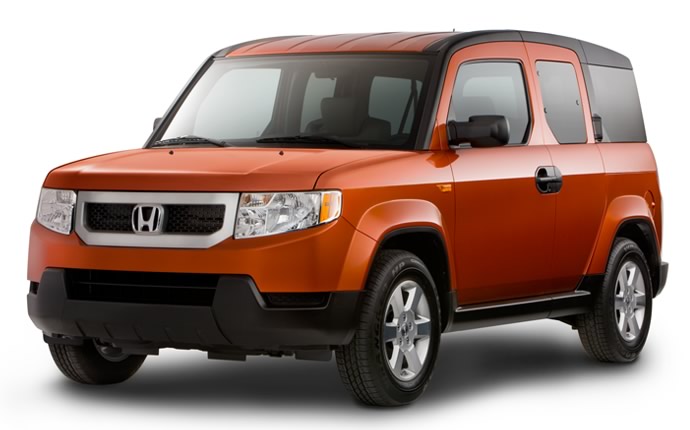 The base level LX offers basic features at an affordable price. It comes standard with a CD player and air conditioning. Step up to the EX and you get alloy wheels, satellite radio, MP3 capability, an auxiliary input jack and a convertible center console with removable cooler box. The SC trim differs the most in the lineup. It is meant for less rugged use and is exclusively outfitted with a monochromatic exterior, custom grille, 18-inch alloy wheels, unique seat upholstery and piano black interior trim elements.

Inside the Element
The cabin of the Element can be confiugred in many ways; Honda claims 64 different seating configurations. This creates the possibility of a large, open cargo space. SC versions get a carpeted cargo area, while the regular model has a wipe-clean plastic surface. The wide opening provided by the unique clamshell side doors is useful for loading kids in the back or cargo into the rear area. In back, the tailgate lowers like a pickup's and is split from the upper glass. The theater-style rear seats provide plenty of visibility and legroom, and can be configured in multiple ways. Slight styling changes were made to the Honda Element's interior for 2009, and those carry over for 2010. Changes are basically limited to slightly different trims, materials, and switchgear, though the basic interior design remains the same.
Conclusions
Standard safety features on every Element include anti-lock disc brakes with brake assist, Vehicle Stability Assist with traction control, front side-impact airbags, front and rear side curtain airbags, front anti-whiplash head restraints, and a tire pressure monitor. A voice-activated navigation system with rear-view camera and USB audio interface is optional. Visit Honda's official 2010 Element site for more details, pictures, and pricing. The 2010 Honda Element makes a style statement that's very much unique. Even for those who don't think the Element is attractive, it's hard to argue with the beauty of its stark functionality and comfort.